Art Super Magazine 1.
D'Scene Magazine 2.
Digit! Magazine 3.
Hestetika Magazine 4.
Dazed 5.
FotoRoom 6.
Les Blogs 7.
Vogue Italia 8.
RSI 9.
Ticino Welcome 10.
Blink Magazine 11.
NY Arts Magazine 12.
Twill Magazine 13.
I-D 14.
Swarm Magazine 15.

... on the web
1

_
Art Super Magazine,
IT
ROGER WEISS | EATING : THE ACT OF CONFIDENCE

Roger Weiss was born in Switzerland and began experimenting with photography from an early age. Graduated with Mention of Excellence from the Accademia di Belle Arti di Brera, Milan (Italy). His curiosity for the expressions of humankind open him the path to an artistic approach. He performs as an artist, art director as well as a fashion photographer. Observing the body, its possibilities, its personal victories and its concealed baggages, Roger Weiss analyzed, by a new way to use the photographic medium in which the obsession with cataloguing, repetition, and decomposition build a disturbing and full of details sight of the human body. This interview is a new step in the poetic of the artist through the investigation of the body and its aspects. Through the use of a new media: the video, Roger Weiss try to investigate even more in depth the feelings that the body reveal through his actions and movements during the process of feeding.
Why a topic related to food and eating?
Man is a being capable of inventing stories, postulates holding up the entire world as we know it. Behind every human being there is an incredible "architecture", consisting of "bricks" or items such as knowledge, prejudices, experiences, habits, indoctrination, education, and so on. A vessel that, with time, we structure more and more, until becoming the fortress. The food, the act of eating, creates a spontaneous passage that can allow to get around these fortifications and get past the mask.
Actually, eating is a basic practice derived from the instinct of survival. The act itself is the merging point between two dimensions constantly connected with each other: the deepest one – our innermost and mysterious side – and the external structure well known to all, where sounds, the eyes followed by the mouth, the tongue and the nerve endings translate into the so-called nourishment process. A development that occurs through an unconditional act of confidence that reveals itself in one the greatest human related moments of intimacy: eating. An act of will which allows lowering our defences to favour communication and the transition from what is external and foreign towards the most inner and private part of our body. In other words, this process generates life itself.
How do you think you can connect videos with your poetics always linked to the photographic medium? What kind of differences have you noticed?
Archivi Intimi brings together private moments through a collection of videos created in my studio during the break between a photo session and the other. I face the video like a photograph in motion, a still image, by adding the element of sound. I have replaced the research of the detail, its my way of capturing images, with a microphone that let me to pick up amplified vibrations produced by the act of eating. Inserting in the image in the end, they create a real timeline.
What is your feelings observing the videos? What differences and what similarities among the subjects?
How much can be natural and spontaneous a person who is asked to eat in front of a camera? I am convinced that no matter the degree of spontaneity but only the repetition of an act; through endless attempts you can arrive at a relevant synthesis in which there are authentic glimpse. What I try to do is to offer an opportunity to catch them.

What is your relationship with food and what's your feeling about being observed?
I am very bashful but I like to observe others. I eat thinking that am gonna choose better the next day. I swallow most of the food without consciousness, for example products that I don't know so well. I guess I can be more aware day by day and with time, create a more profound consciousness.

interview by Annalisa Scandroglio
2

_
D'Scene
Magazine
THE PERSPECTIVE OF ROGER WEISS

Artist ROGER WEISS is one of the few contemporary artists on the scene who successfully manage to use photography as an inspiring art medium, while creating showstopping and original visualizations. Our contributor SAV LIOTTA sits down with Roger to talk about his beginnings, his creative process and the hidden message behind his artworks.
You are a well-established young artist can you tell us how you started your first approaches to the camera?
My approach to camera has been very gradual, initially fascinated by the desire to handle machines for me with mechanical mysteries and experience the dark room, slowly, I realized that staying behind a goal would have allowed me to relate to others more easily. From that moment on, I've always had people who helped me by giving me some of themselves that I have carefully taken care of in my work.

What are the first images that have marked your childhood?
I have no memory of a specific image. What echoes in me, from my childhood, is the refusal to attribute an aesthetic sense to a human figure. I was literally extraneous to knowing how to connect the functional part of the individual's portions of the body to something that came close to the idea of harmonic. Then, over time, I gradually moved away from the detail, in the name of a vision that allowed me to perceive the whole and get used to what today I feel as beautiful.


What was the idea behind your "Human Dilatation" series?
From a perfectly functional requirement The idea has been developed from the I am Flesh series, a total of 35 subjects portrayed systematically, through which you can sweep the body without attributing an artistic value. I was expecting to keep the photographic material assembled for this project and to study it further, and so it was. I crossed those bodies like real two-dimensional maps. What I needed to go further was a sum of accents that would allow

me to approach my way of perceiving the human being. Human Dilatations is the result of these modulations.

What do the dilated shapes of your subjects symbolize?
I do not believe in the concept again as it is seen today, I rather think that there are people who have gone a stretch of road before me and others who will do it afterwards. Sometimes the roads cross and from there, in a dialectical view, can give rise to other paths parallel to those tracks that flock to creating a world to throw away what has just been conceived since it has already transitioned, bodies that become form first and for what they perceive an archetypal sense of the human being.

So, the transformations of your models, the elongated body parts, they transmit the power the strength of the human body, extreme beauty, could one say a new aesthetic sense?
To have a look of the contemporary man stripped of the two elements that distinguish his research: physical perfection and the current power or role, of the mind is what each image represents.
3

_
Digit!
Magazine, DE
AUSWEITUNG DER KOMFORTZONE
Mithilfe komplexer Shooting- und Postproduktionsprozesse dekonstruiert der Schweizer Roger Weiss den weiblichen Körper und stellt dem medialen Schönheitsideal irritierende Aktkompositionen gegenüber. Von Peter Schuffelen
Es sind verstörende Bilder, die der Schweizer Fotokünstler unter dem Namen "Human Dilatations" – übersetzbar etwa mit "die Ausweitung des Mensch(lich)en" – produziert hat. Nackte Frauenkörper mit überlangen Gliedmaßen und gestreckten Torsi, die Proportionen sind buchstäblich "verrückt", in die Länge gezogen, bisweilen erinnern sie an die Skulpturen des ebenfalls aus der Schweiz stammenden Bildhauers Alberto Giacometti. Die Prints, die Weiss von der Serie fertigt und in kleiner Stückzahl auflegt, sind von großem Format und von atemberaubender Detailtreue – theoretisch ließen sie sich bis auf vier mal zweieinhalb Meter aufblasen. Die visuelle Wirkung der hohen Auflösung von 47.244 x 32.864 Pixeln erfährt man indes nur, wenn man direkt vor den überlebensgroßen Inkjetdrucken steht – weshalb Weiss auf seiner Website Details herausvergrößert hat: Hautfalten, Fingernägel, Augenbrauen, Hautunreinheiten, Abschürfungen, Schwielen, Tattoos, alles gestochen scharf, in makroskopischer Ansicht und dazu gnadenlos ausgeleuchtet. Weiss, von Hause aus Modefotograf, hat zu Beginn des Projekts mit männlichen und weiblichen Models unterschiedlichen Alters experimentiert, sich am Ende aber für junge, attraktive Frauen entschieden – aus konzeptuellen Gründen, wie er im digit! Interview erklärt. Trotzdem: Mit klassischen Nudes, mit erotischer Fotografie gar, hat
"Human Dilatations" bei aller Nacktheit in etwa so viel zu tun wie ein Hering mit den euphemistischen, in Photoshop zu unwirklicher Perfektion hochgejazzten Werbesujets oder Erotik-Sites.
Der Grund: Weiss meidet die Unvollkommenheit nicht etwa, er zelebriert sie geradezu. Der Absolvent der Mailänder Akademie der Schönen Künste hat sich durch die japanische Kintsugi-Technik inspirieren lassen, eine traditionellen japanischen Methode zur Reparatur von Porzellan, welche die Versehrtheit des Materials absichtsvoll betont, indem sie die Bruchstücke mit einer Kittmasse kunstvoll zusammensetzt, der Gold- oder Platinstaub beigemengt ist. Angelehnt an das ästhetische Leitbild des Wabi Sabi erhebt diese Technik die Unvollkommenheit zum Schönheitsideal. Weiss adaptiert das Prinzip des Fragmentierens und Wiederzusammenfügens zu einem neuen ästhetischen Ganzen fotografisch. Das spiegelt sich nicht nur in den finalen Bildern des Werkzyklus' wider, sondern auch im Schaffensprozess. So bestehen die einzelnen Bilder aus 200 oder mehr Einzelmotiven. Weiss lichtet dazu den kompletten Körper von unten nach oben mit Objektiven unterschiedlicher Brennweite ab und rekonstruiert den Körper aus den einzelnen Shots in einem schier uferlosen, bis zu 14 Stunden dauernden Composing-Prozess (siehe Interview), den er auf seiner Website als Zeitraffervideo dokumentiert. Dank dieser Technik ist der Betrachter in der Lage, jede einzelne Körperstelle bis ins letzte Detail zu "erfahren", alle "Makel" inklusive. Die ungefilterte Konfrontation mit dem Körperlichen wie auch dessen Verzerrung mögen auf den ersten Blick irritieren, ja vielleicht sogar schockieren. Sie unterstreichen im zweiten Moment aber die Mannigfaltigkeit des menschlichen Körpers. Indem er ihn gezielt verzerrt, hinterfragt Weiss das medial vermittelte uniforme Muster (weiblicher) Attraktivität. Zugleich erklärt er die Imperfektion zum begehrenswerten ästhetischen Prinzip.
"Natürlich ging es mir darum, das klassische, medial vermittelte Schönheitsideal infrage zu stellen", sagt der Tessiner Fotokünstler."'Human Dilatations' sucht die Zeichen der Unvollkommenheit und Hinfälligkeit des Körpers, löst sich durch das Spiel der Verzerrungen vom stereotypischen und heuchlerischen Begriff der Schönheit und fördert damit das Bild des Weiblichen als Ganzem. Gleichzeitig war es mir wichtig, deutlich zu machen, dass es um meinen, also um einen männlichen Blick auf den weiblichen Körper geht."
Aufklärerische "Fleischbeschau": "I am flesh"

Noch offensichtlicher ist dieser männliche Blick in Weiss' Vorgängerprojekt, das den eindeutig zweideutigen Titel "I am flesh" trägt. Statt mit Verzerrungen arbeitet er hier mit den Mitteln der Standardisierung. Der Zyklus umfasst 35 Aktaufnahmen junger, attraktiver Frauen, die in identischer Weise frontal, stolz und mit maximaler Körperspannung vor der Kamera posieren, die Arme hinter dem Rücken verschränkt.
>>
Die Ganzkörperportraits sind ungeschönt, gnadenlos ausgeleuchtet, zentralperspektivisch fotografiert und von einer unbarmherzigen Auflösung, die mit demokratischem Blick alles gleichermaßen betont: das Gesicht, den Rumpf, Vagina, Brüste, die Haut. Auch wenn der Projektname etwas anderes suggeriert: "I am flesh" hat ebenso wenig mit erotischer oder gar pornografischer Fotografie zu tun wie "Human Dilatations". Der erotischen Objektivierung steht gerade diese "objektive" Blick des Fotografen entgegen. Irritierend sind aber nicht nur das Uniforme, sondern auch wieder die kleinen und größeren "Defekte", darunter Pickel, Tätowierungen, blaue Flecken, Narben, Brüste mit Implantaten, ein amputierter Unterschenkel oder eine amputierte Brust. Am Ende hat "I am flesh" etwas zugleich Menschliches wie Androides. "Ich habe die Standardisierung gewählt, um in dieser Serie meine persönliche Sicht möglichst vollständig zu eliminieren", sagt Weiss. "Was mich vielmehr interessiert hat, war, dass man jedes Detail sieht. Es ging mir darum, eine Art Landkarte des jeweiligen Körpers zu schaffen und zugleich die Würde jeder einzelnen Frau zu bewahren, die durch ihren stolzen Blick zum Ausdruck kommt."
Als Nächstes plant Weiss ein Projekt, das beide Werkreihen – "Human Dilatations" und "I am flesh" in einem dialektischem These-Antithese-Spiel zu einer neuen Synthese treibt. Auf das Ergebnis darf man getrost gespannt sein.
"Die menschliche Suche sichtbar machen."

Herr Weiss, was uns auffällt: In "Human Dilatations" sind die Gesichter der Frauen kaum oder gar nicht zu sehen. Warum?
Weil es mir nicht darum ging, das einzelne Individuum zu zeigen, ich wollte vielmehr einen verallgemeinernden Effekt erzielen, einen ästhetischen Effekt, der für alle Frauen gleichermaßen gilt, eine Art Totem, wenn man so will. Außerdem wollte ich auf jene beiden Elemente abheben, die die Suche des zeitgenössischen Menschen bestimmen: das Streben nach körperlicher Perfektion und die dominierende Rolle, die der Verstand spielt.
Sieht man von den Verzerrungen ab, sind alle Models jung und schön. Warum?
Ich wollte, dass man sich auf die ungewohnten Perspektiven und die reine Form konzentriert und nicht auf Merkmale wie etwa eine faltige Haut, die vom Eigentlichen ablenkt.

Woher stammen die Models bei "Human Dilatations" und "I am flesh"?
Das waren in beiden Fällen Freundinnen von mir, die mitgemacht haben, weil sie an mein Langzeitprojekt glauben. Gerade die frontale Konfrontation mit dem Körper bei "I am flesh" war nicht einfach für die, die mitgemacht haben – zumal man ja auch das Gesicht sieht. Ich bin sehr froh, dass die Modelle mitgemacht haben – ein echtes Geschenk.

Jedes einzelne Bild von "Human Dilatations" ist aus 100, 200, manchmal sogar 300 Einzelaufnahmen zusammengefügt. Warum diese große Anzahl?
Es ist vor allem eine Frage der hohen Schärfentiefe, die ich erreichen wollte. Obwohl ich sehr starkes Blitzlicht und kleine Blenden nutze, ist der Schärfentiefenbereich wegen des geringen Aufnahmeabstands ziemlich begrenzt. Angenommen, ich fange mit einer Hand an, dann ist bereits der Arm unscharf, also "scanne" ich den Körper nach und nach mit der Kamera ab.

Wie müssen wir uns das Shooting vorstellen?
Es gibt, grob gesagt, drei Phasen. Als Erstes nutze ich ein Makro oder ein 50-mm-Objektiv und fotografiere frontal. Wenn ich Verzerrungen einbauen will, fotografiere ich mit einem Weitwinkelobjektiv aus vielen unterschiedlichen anderen Perspektiven. Die Gesichter bzw. Köpfe fotografiere ich hingegen mit einem Tele.

Warum arbeiten Sie mit einer Kleinbild- und nicht mit einer Mittelformatkamera?
Das hat praktische Gründe. Schon bei einer Kleinbildkamera summieren sich die Datenmengen wegen der Vielzahl der Einzelbilder auf 20 Gigabyte. Würde ich mit einer Mittelformatkamera fotografieren, müsste ich mir einen ultrapotenten Spezialrechner bauen lassen, um die Verzerrungen hineinzurechnen.

Was haben die gelben Punkte auf dem Körper der Frauen zu bedeuten?
Das sind Markierungen, die mir beim Composing helfen. Sie zeigen den Punkt, an dem die Schärfentiefe abriss. Ich habe sie auf den Körpern belassen, um diesen Prozess für den Betrachter sichtbar zu machen. Das Composing und die Postproduktion dauern pro Bild 14 Stunden und mehr.

Ist das nicht ein sehr ermüdender Prozess?
Nein, für mich hat das etwas von einem Mantra. So sehe ich, wie die Arbeit nach und nach in all ihren Details wächst, bis ich die gewünschte Form erreicht habe. Es hat etwas von der Arbeit eines Bildhauers.

Neben Ihren freien Projekten arbeiten Sie für Modezeitschriften und Modehäuser, die ja völlig andere ästhetische Paradigmen haben. Wie passt das zusammen?
Ziemlich gut. Die Modefotografie hat mich gezwungen, absolut professionell zu arbeiten – schließlich geht es darum, ein perfektes Produkt abzuliefern – eine gute Schule. In meinen freien Arbeiten bin ich hingegen wirklich frei.


9

_
RSI, CH
GO TO THE VIDEO
10

_
Ticino Welcome
Magazine, CH
VOGLIO SCOPRIRE NUOVI TERRITORI DA ESPLORARE E RACCONTARE


Chi è Roger Weiss?
«Sono nato in Svizzera, il mio approccio alla macchina fotografica è stato immediato ed è avvenuto in giovane età. Mi sono laureato con lode all'Accademia di Belle Arti di Brera. La mia curiosità verso l'essere umano mi ha portato ad approcciarmi ad esso sia artisticamente che come fashion photographer. Ho all'attivo esposizioni e pubblicazioni internazionali».
Quando e come hai deciso di avventurarti nel mondo della fotografia?
«Mi sono legato indissolubilmente alla fotografia durante il primo anno di Accademia, quando mi sono reso conto che avrei potuto usare il mezzo fotografico come una maschera da cui partire per prendere forza e nascondere la mia idea del limite».

Puoi parlarci del tuo lavoro nel corso degli anni?
«I am Flesh è il progetto che mi ha permesso più di altri di esplorare la nostra frammentazione sociale e la mancanza di ritualità, un atto che permette all'uomo di mantenere il giusto equilibrio con il mondo circostante, mantenendo una propria identità. L'iniziazione di un fanciullo all'età adulta di alcune civiltà, conferisce all'atto un valore che segna per sempre la persona al rispetto e alla responsabilità delle proprie azioni. Oggi non c'è più questo elemento fondamentale perché una civiltà mantenga sana la propria posizione. Mangiare carne significa saper uccidere l'animale che si mangia. Senza questo processo, decade ogni altro valore. Le responsabilità e la conoscenza sono volutamente frammentate, settorializzate. Creando così una più facile manipolazione sull'individuo. Non ci sentiamo responsabili di nulla, pur essendolo, poiché ci è permesso di non vedere oltre al nostro atto/frammento. In linea con questo pensiero ho iniziato da poco un nuovo progetto che vi presenterò in anteprima».

Raccontami del progetto Human Dilatations, il progetto sul quale stai lavorando.
«Sì, è ancora in lavorazione e tocca un argomento al quale sono molto sensibile. L'immagine della donna nel nostro tempo e lo schematismo a cui la sua figura è stata ridotta, un insieme di canoni e modelli a cui far risalire la donna/individuo, invece che il contrario.

Human Dilatations non teme i segmenti della cedevolezza del corpo insieme alle sue imperfezioni, ma accompagna l'immagine femminile ad apparire nel suo insieme come una forma altra, in un gioco di distorsioni che permette di rapportarsi all'immagine in modo cangiante, distaccandosi completamente dal gusto stereotipato ed ipocrita del bello. La serie comprenderà diverse opere fotografiche di grande formato che sto definendo con lo studio berneassociati.eu per la stampa ed un vero e proprio gioiello: un libro edito da josefweissedizioni.ch, un unicum stampato ancora a mano su carta pregiata e composto con caratteri mobili. All'interno saranno presenti 3 opere della serie Human Dilatations che accompagneranno il testo del Cantico dei Cantici di Salomone».



Come sei arrivato a questa idea?
«Il mio percorso è nato con l'approcciare all'idea dell'Essere femminile come ad una dimensione che vada oltre al Logos, all'intelligibile, e farlo attraverso la mia visione, quella di un uomo.

Per far ciò non potevo che partire dal Neolitico, il simbolismo della Dea ed il mistero della nascita, morte e rigenerazione. Una ciclicità che è stata rappresentata da tutto un sistema simbolico sopravvissuto per millenni. Prima ancora delle religioni patriarcali.

Ho creato un feeling immediato con la sintesi che ho trovato nelle statuette in osso, pietra o terracotta dell'età della pietra. Sono essenza pura, dense di quelle fragilità della vita e alla continua ricerca dell'uomo di avanzare, che ancora oggi ci rappresentano. Non è cambiato molto nella natura dell'uomo se non, oggi, nella mancanza di quella ritualità che probabilmente conferiva al ciclo della vita una propria dignità».

Che ruolo ha l'uomo nel tuo lavoro?
«L'uomo, nel senso di essere umano, è l'ossessione del mio indagare. Prima del nostro conosciuto c'era altro. Prima del patriarcato e del matriarcato, delle ideologie e delle istituzioni, c'era un equilibrio sociale in una continuità matrilineare pronta ad abbracciare l'idea del tutto e della ciclicità della vita. Paradossalmente, oggi, in nome di una forma di "civiltà logica" abbiamo perso la nostra "civiltà umana" che, per amore di un ordine maggiore, di un valore assoluto e definitivo, ci siamo dimenticati l'uomo, che è paradosso dei paradossi l'essere meno assoluto e definitivo del creato, è l'esemplare più "particolare" (nel senso di "è una parte, mai una sintesi ideale") e "contingente" e in "divenire" che ci sia al mondo».

Che cosa chiedi ai tuoi soggetti di fronte alla macchina fotografica?
«Il mio soggetto/modella sa che, al di là del risultato, ciò che mi interessa è l'incontro in sé, esattamente quando, in pochi istanti, si deve decidere come e quanto di se mettere in gioco. Il resto viene senza forzature».

Hai lavorato sia con la fotografia che con il video, come ti adatti creativamente tra i due mezzi?
«Uso il video come fosse una macchina fotografica, dilatando nel tempo un'immagine costante ed uso la fotografia per cogliere l'attimo, come per un cacciatore con la sua preda. «Si scatta, si spara, si spera di catturare la preda. Il predatore-cacciatore dorme per riposare e sogna per ripassare il proprio saper cacciare. Fotografare è sognare di cacciare, sparare alle prede per poi catturarle davvero il giorno dopo, alla luce del sole. Roger Weiss è come il cacciatore che dipingeva nella camera oscura della caverna la cacciagione affinché la caverna la partorisse là fuori, dove poi lui gli avrebbe dato la caccia alla luce del giorno. Canale del parto, caverna platonica, camera oscura, parete rocciosa, pellicola, supporto digitale… Resta un cacciatore il fotografo, uno strumento di caccia la fotografia; ars goetia, una teurgia il fotografare» (Maurizio Medaglia)».

Come affronti un nuovo progetto quando hai un'idea?
«Ciò che mi circonda diventa un campo di sperimentazione che è alimentato dal desiderio di mettermi in gioco. Sono sempre aperto a mettermi in discussione, cercando di trovare il coraggio di non guardarmi indietro e capire qual è il modo che mi permette di sentirmi in crescita».

Qual è il tuo statement artistico?
«Le società creano e distruggono modelli nell'interesse di pochi. È responsabilità di ognuno di noi cercare e trovare alternative».

Quali sono i tuoi progetti per il futuro?
Lavorare sul concetto di Totem.

Penso allo scultore, quando toglie il superfluo per liberare l'opera/feto contenuta nella materia inanimata, per dargli vita in un vespaio sempre in movimento nel quale viviamo e percepiamo come ci hanno imposto di vedere. Non si sa nulla di ciò che ci circonda ed in questo continuo moto, come lo scultore vede la propria opera prima che nasca, io vedo il feticcio dal quale voglio togliere il superfluo per cercare il mio totem contemporaneo.

Un potente mezzo che porta all'essenza ultima del tutto: paura, soggezione, attrazione (Eros -> vedo VS Thanatos -> non posso toccare), vita, morte, etc.

Il totem crea pensieri e non movimento e rappresenta la totalità intorno alla quale si possono creare riti, racchiudere tutto ciò che le persone possono pensare, desiderare… divenendo così tabù, ed il tabù non si può toccare.

11

_
Blink
Magazine, Korea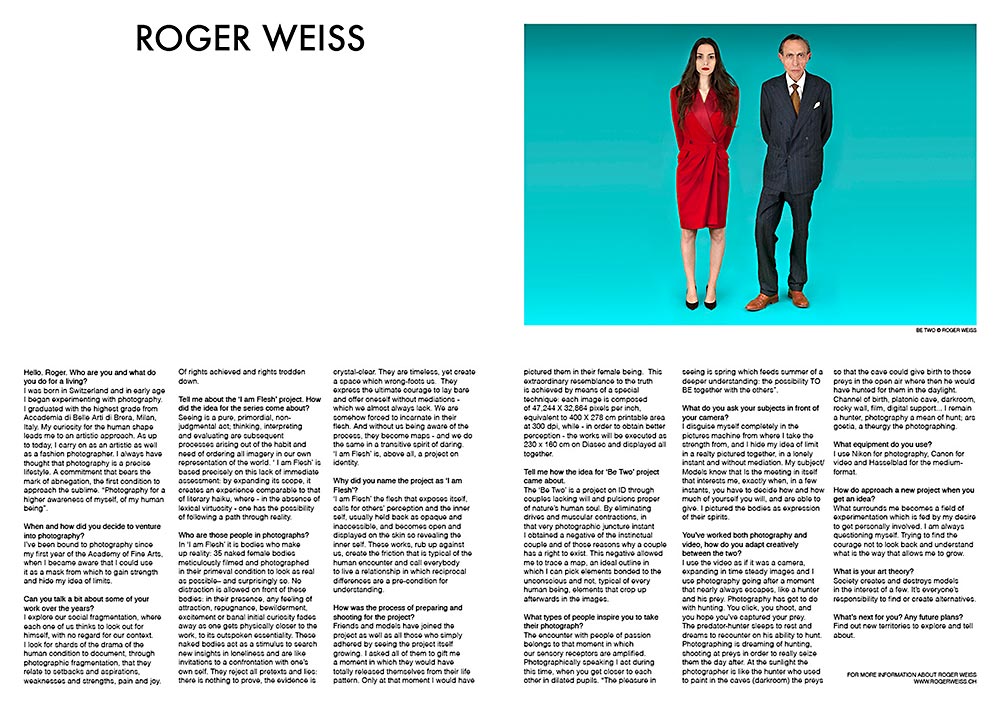 Hello Roger. Who are you and what do you do for a living?
I was born in Switzerland and in early age I began experimenting with photography.

I graduated with the highest grade from Accademia di Belle Arti di Brera, Milan, Italy. My curiosity for the human shape Ieads me to an artistic approach. As up to today, I carry on as an artistic as well as a fashion photographer. I always have thought that photography is a precise lifestyle. A commitment that bears the mark of abnegation, the first condition to approach the sublime. "Photography for a higher awareness of myself, of my human being".

When and how did you decide to venture into photography?
l've been bound to photography since my first year of the Academy of Fine Arts, when I became aware that I could use it as a mask from which to gain strength and hide my idea of limits.

Can you talk a bit about some of your work over the years?
I explore our social fragmentation, where each one of us thinks to look out for himself, with no regard for our context. I look for shards of the drama of the human condition to document through photographic fragmentation, that they relate to setbacks and aspirations, weaknesses and strengths, pain and joy. Of rights archieved and rights trodden down.

Tell me about the 'I am Flesh' project. How did the idea for the series come about?
Seeing is a pure, primordial, non-Judgmental act; thinking, interpreting and evaluating are subsequent processes arising out of the habit and need of ordering all imagery in our own representation of the world. 'I am Flesh' is based precisely on this lack of immediate assessment: by expanding its scope. it creates an experience comparable to that of Iiterary haiku, where – in the absence of lexlcal virtuosity – one has the possibility of following a path through reality.

Who are those people in photographs?
In 'I am Flesh' it is bodies who make up reality: 35 naked female bodies metioulously filmed and photcgraphed in their primeval condition to lock as real as possible- and surprisingly so. No distraction is allowed on front of these bodies: in their presence, any feeling of attractionc repugnance, bewilderment, excitement or banal initial curiosity fades away as one gets physically closer to the work, to its outspoken essentiality. These naked bodies act as a stimulus to search new insights in Ioneliness and are like invitations to a confrontation with one's own self. They reject all pretexts and lies: there is nothing to prove, the evidence is crystal-clear. They are timeless, yet create a space which wrong-foots us. They express the ultimate courage to lay bare and offer onesell without mediaticns – which we almost always lack. We are somehow forced to incarnate in their flesh. And without us being aware of the process, they become maps – and we do the same in a transitive spirit of daring. 'I am Flesh' is, above all, a project on identity.
Why did you name the project as 'I am FIesh'?
'I am Flesh' the flesh that exposes itself. calls for others' perception and the inner self, usually held back as opaque and inaccessible, and becomes open and displayed on the skin so revealing the inner self. These works, rub up against us, create the friction that is typical of the human encounter and call everybody to live a relationship in which reciprocal differences are a pre-condition for understanding.

How was the process of preparing and shoothg for the project?
Friends and models have joined the project as well as all those who simply adhered by seeing the project itself growing. I asked all of them to gift me a moment in which they would have totally released themselves from their life pattern. Only at that moment I would have pictured them in their female being. This extrsordinary resemblance to the truth is achieved by means of a special technique: each image is composed of 47.244 X 32.864 pixels per inch, equivalent to 400 X 278 cm printable area at 300 dpi, while – in order to obtain better perception – the works will be executed as 230 x 160 cm on Diasec and displayed all together.


>>